Here at Irene's Face Painting we have very high standards; we aim to provide a personal, professional and magical service at your face paint party. It is an amazing privilege to be able to add value and sparkle to your celebrations. If you are ready to give the gift of happiness at your event then contact me today so I can paint you some beautiful memories!
Face paint party – A great birthday idea for kids
Face painting is more than just a few strokes of paint to children; it is a whole new identity. At a face paint party they can become a princess, a superhero, a monster, an animal; the options are as endless as their dreams. Watching this transformation, especially in timid children, feels like a great honour.
One of my favourite aspects of the business is creating new images. I indulge my imagination and produce exclusive face paint designs that can only be found through Irene's Face Paints. This gives me such a huge sense of achievement especially when I see them come alive on the faces of excited children.
Adult face paint party
Despite popular misconception, it's not just about kid's birthdays. Every event I work at is unique, and so are the faces I paint; I quite often provide themes or colour schemes to go with the individual occasion. Offering such a bespoke service means that my job never gets dull (and neither do my designs).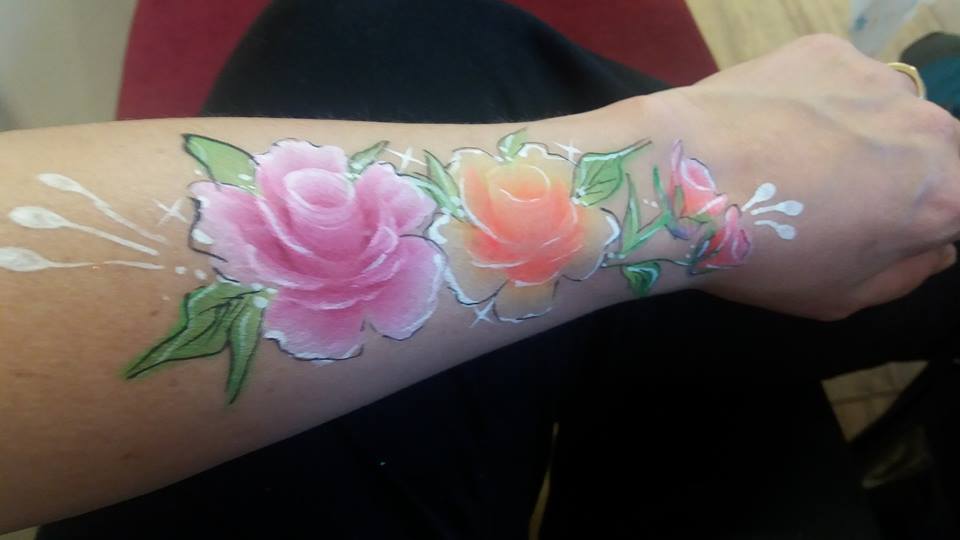 Why you can trust me to deliver a quality service
I value my service as high quality and as such I only use superior paints that reflect this. My hygiene practices are stringent and for your extra peace of mind, I am personally insured and DBS checked. I take great pride in my work and strive to provide a professional service with a dusting of glitter.
Face paint party hire
Irene's Face paints can be hired for any event. I love the diversity of my job and can often be found at:
Corporate events
Sporting events
Children's parties
School fetes / fairs
Family gatherings
Seasonal events
I travel anywhere from the Forest of Dean to Cardiff and areas in between such as Newport , Magor, Caldicot and Chepstow. I am now also covering Bristol due to the easy travel on the M4 over the bridge.
How I became a face painter
I wanted to take this opportunity to share my story with you so you can understand my journey and why I have such endless enthusiasm for face painting. I have always had an artistic flare and my original career path was in graphic design. I worked as a graphic designer in the print industry. At first running a print shop then I moved on to working in large format exhibition print. I enjoyed meeting clients, solving their print problems and each print job was different. I loved working in such a creative industry and relished the opportunity to conceive original designs, uniquely created for each client.
After I had children I wanted to find a job that fitted in better with the family. I trained to be a teaching assistant and although I enjoyed my new role, I found myself anchoring for a more creative outlet. I recognised that I was happiest when doing art activities with my own children; I took so much pleasure in watching their joy through drawing and painting. One of their favourite past times was face painting and it quickly became mine too. Whilst training to be a teaching assistant I started work at a soft play centre. I soon found myself running the toddler craft sessions twice a week, very busy from crafting, song time and of course dancing with the mascot Ellie the elephant! However little did I know I was about to ignite my creative side again, hosting the parties at the soft play centre and discovering face painting!
Setting up in business
I soon became obsessed with face painting to the point that my children spent most of their time awake with painted faces! I started helping at children's parties and got such a positive response from the parents and the kids that I made the bold decision to create a business out of my new found passion.
Now I am 9+ years running a self employed business with a team of face painters working across South Wales, the lovely Forest of Dean and Wye Valley and to Gloucester and Bristol. We regularly paint at sporting events, store openings, promotions and corporate events. We also face paint at personal celebrations from birthdays, christenings and of course lovely weddings. Indeed we paint all ages spreading our love of painting with a sparkle and a smile!
Face painting is a great way to make your party or event fun and create happy memories that last for years.
Face painting by Irene – painting memories x